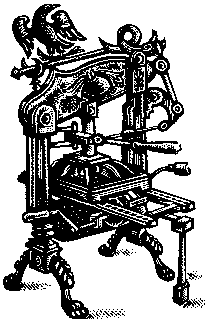 We specialise in digital printing, which means that we can print straight from a digital file to the printer without the protracted, and costly, pre-press processes, such as running the artwork to film, making a plate, changing the ink, etc., that used to be necessary with offset lithographic printing. For this reason digital printing is very economical for short runs.
​
We can print short to long runs, in black and white or colour. The beauty of digital printing, as far as book production is concerned, is that if you want to have a mix of colour and black and white pages you don't have to confine the colour pages to sections; you merely pay an additional cost per colour page.​
Due to the cost-saving innovations of digital print, customers do not need to order huge quantities, they can spread the cost of printing by ordering less, more frequently. This means that you can alter certain elements, and keep things updated and current, without having to pay for the expensive process of setting up new printing plates each time. Merely tell us what needs to be updated and we will update the computer file, or if you are doing the artwork yourself, you can just send us a new file to print from.​
We always provide the customer with a printed proof of their job so that they can check that they are happy with it before we go to press. In addition, we keep all the artwork for the jobs which we design on file, and usually archive those jobs in which the artwork has been supplied. In this way you can order a reprint of your job without having to supply us with a new file each time.
We also provide an in-house finishing service, including collating, numbering, creasing, folding, padding, stapling and perfect-binding. Please feel free to ask us for a quote using the contact details below.
Print-Ready Jobs
If you have designed your job yourself and just want us to print it, please supply the job according to the following specifications for best results:
Your file needs to be saved as a print-quality pdf at the correct size, all images should be at least 300 dpi and text should not be rasterized but saved with the fonts embedded. To accurately trim your job we require you to save the pdf with a 4mm bleed and crop marks offset by 3mm (find this option under 'marks and bleeds'). Crop marks show where the job is to be trimmed, all images and artwork intended to print to the edge of the page should 'bleed' over the intended edge, see below for an example. Please note that bleed is not necessary if your job has a white background with a margin around the edge of it. Margins should not be less than 8mm for jobs A5 and larger, i.e. text and graphic elements that are not intended to bleed should not come closer to the edge of the page than 8mm.
Click here for an example of a print-ready pdf (this is only a web-quality
version and the red lines and text are for explanatory purposes only).
Greetings Cards

A6 cards plus envelope = 32p per card*
A5 cards plus envelope = 54p per card*
Small square cards (125mm) plus envelope = 40p per card*
Large square cards (150mm) plus envelope = 54p per card*

* Plus new job set-up charge of £10 if image supplied for blank inside cards or £15 for cards with a message.
Scanning your image from an original is an extra £10.
A minimum order of 20 cards per design applies.
Reprints totalling under £10 are subject to a minimum order surcharge to bring the total up to £10.
Prices are plus VAT.